Toothpicks are a convenient and quick alternative to dental floss. Their pointy (not harmful) ends help to extract the bits of food detritus from between the teeth after every meal. Toothpicks are an everyday commodity needed in every household.
| | |
| --- | --- |
| | The debris (often invisible) left between your precious smiles provides a favorable growth environment for the bacteria which can jeopardize the health of your mouth severely. Bamboo toothpicks with knot are a quick fix for such cases. |
Digging your tongue in between the tooth spaces can not only be challenging but awkward too especially in a social gathering.
Toothpicks are designed to access the places in your mouth where bristles of the brushes can never reach. They significantly aid in maintaining the oral hygiene.
Toothpicks can be made from mainly a couple of raw materials like the wood and bamboo. They also come with a variety of flavours and are often fluorinated too. Fluoride prevents tooth decay and is hugely beneficial to the people of all ages.
Why is Bamboo an excellent raw material for a Toothpick?
| | |
| --- | --- |
| | Bamboos are entirely eco-friendly, renewable and are easy to grow. Their only significant disadvantage is their germination and fruition period which runs for a couple of years; if not half a decade. However, as far as risks are concerned, toothpicks like the thin bamboo toothpicks or even bamboo toothpicks with knot are incapable of doing any significant damage to the gums. They are soft and an unintended press onto the gums will not bruise or bleed them. |
Demand for high-quality bamboo toothpicks
Asian people are primarily meat eaters which is why there is a significant demand for toothpicks in Asia. Thin bamboo toothpicks and bamboo toothpicks with knot from Bamboo are cheap, are not life-threatening if swollen by mistake and most importantly, eco-friendly.
Environmental benefits of Toothpicks made from Bamboo
The Bamboo toothpick industry massively helps in the conservation of soil and forest. More thin bamboo toothpicks call for more plantation of the Bamboo which holds the soil effectively and thereby reduces the soil erosion.
The dependency on Bamboo for manufacturing the toothpicks also reduces the significant load on the Timber forests.
How we manufacture our high-quality Bamboo toothpicks
We procure Bamboos from the best Bamboo growers which are then sliced into extremely thin splits.
The Splits are usually in the range of 2-3 mm diameter rods. The rods are then dried extensively in the sun to remove any moisture.
The diameter rods are then cut into lengths. The ends are then sharpened with the help of machines. The rods with sharpened ends are then packaged to be dispatched to the hospitality industries.
From procuring the bamboo to dispatching the toothpicks, the entire work usually takes ten to twenty days.
Finest toothpicks made from Wood and Bamboo
We are one of the excellent toothpick providers for the foodservice and the hospitality industry.
A bamboo toothpick also yields another advantage in the form of lesser need to plant the timber wood. We have a wide variety of toothpicks such as round wooden toothpicks, knotted bamboo toothpicks, thin bamboo toothpicks.
If you are looking for cheap bamboo toothpicks, we can easily arrange it for you. Just give us a call to our representative and we will give you a competitive pricing on bulk orders of Wooden as well as Bamboo toothpicks.
Bamboo toothpicks with a knot
Our Bamboo Toothpicks also come with knots which can easily be used to serve burgers, cheese squares, and meats along with the fruit balls. They are an excellent choice for serving the hors-d'oeuvres. We provide a bundle of 100 Bamboo toothpicks with a knot in a pack at highly competitive prices in the market.
Although the ends are sharp, they are usually safe and are far from life-threatening to children upon the unintended use; however, it is important to never let your children out of sight with a toothpick.
Toothpick vs. Dental Floss| Which is safer?
Both Toothpicks and Dental floss have their own shares of pros and cons. Toothpicks are handy to be used in public gathering as they are incredibly convenient. If safety parameters are taken into account, then both can have damaging effects on the gums if used improperly. Tooth Pick used too forcibly can slip onto the gums and can bruise and even bleed them whereas too much flossing (done improperly) is also not far behind in creating the same impact.
Looking for Flat Wooden toothpicks?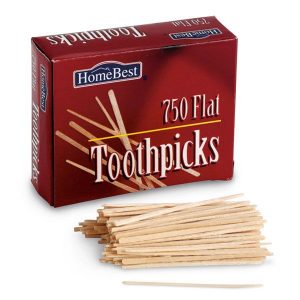 We are a notable provider of the flat Wooden toothpicks. They cost less than the knotted bamboo toothpicks and do the purpose too. Reputed hotels and the entire hospitality industry procure the flat wooden toothpicks as well as knotted bamboo toothpicks from us as our rates are cheaper than the competitor.
Round Wooden Toothpick
They are made from high quality of woods and serve multiple purposes. Apart from their apparent intent, they can effectively be used to decorate the baked goods.
Their visual appeal is natural on the eyes and looks perfect on an appetizer platter. Our Round Wooden Toothpicks are durable, and UV treated, however, they should not be treated inside a microwave.
Since wood is entirely bio-degradable, the wooden toothpicks are more eco-friendly than their plastic ones. Our Round Wooden Toothpicks have a soft finish and are excellent in removing the leftover debris from the tooth gaps or use them a cleaning tool also by dipping into alcohol in wiping out dirt from the corners or phone buttons, keyboard buttons and pianos.
Why buy toothpicks from us?
We have a variety of toothpicks and are ever ready to ship them in the bulk quantities. We have our land for growing the bamboo trees and therefore there is no compromise on its quality. Our at the US and Europe sell bamboo toothpicks.
We established our base in Jianou City which has an abundance of competition for Bamboo production. Apart from the Bamboo toothpicks, we also offer Bamboo chopsticks and Bamboo flower Sticks. Since we rarely deal through the intermediaries, the end consumers enjoy our low prices.
Get in touch with us at 86-0591-83891096, and one of our representatives will assist you in finalizing a profitable deal for shipping the high-quality bamboo toothpicks to any part of the world. We are also available at rijia6@fzymjco.com and rijia7@fzymjco.com.